Sede: via Regina Margherita 555 - 98028
Santa Teresa di Riva (Me) - Sicilia - Italia
Tel.: 0942. 896108
Fax: 0942. 443113
L'informatica al servizio delle
FARMACIE
STRUMENTI HARDWARE
SOLUZIONI SOFTWARE
Sistema F Platinum :
Gestionale per la Farmacia.
Per una gestione redditizia del punto vendita.
Tariffazione Automatica:
Ge.Co.R. - Il Metodo Vincente per la Tariffazione Automatica delle Ricette
SPINPharm:
Lo studio medico in tasca.
Compilazione assistita delle ricette tramite Pocket PC.
Registrati e riceverai sulla tua casella di posta tutte le promozioni e le novità del sito!
TK-3750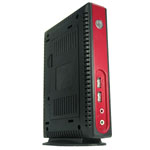 Terminale CE / LX/ XP
Marchio:


Scheda Tecnica: In allestimento
PREZZO da richiedere: Info&Preventiv
Software Feature
CE.NET
MS RDP5.5.2 / Citrix ICA 9.0
DNS, DHCP, PPP, WINS, RAS, VPN, TKRM
Agent, SNMP Agent and SNMP MIB
II, PPPoE, MS IE 6.0 supported
Windows Media Player 9.0, Support
MPEG-4 and MP3, Thin Print support
LPD support, USB External storage
support and sharing
XP Embedded
MS RDP5.2, Citrix ICA 9.0
Microsoft Internet Explorer 6.0
Windows Media Player 6.4, Macromedia
Flash Player 7.0, MSJVM, EWF support,
Ramdisk, DUA(Device Update Agent),
USB Printer Support, Modemn support
Map Network storage function
PNAgent 8.1, TCP/IP Utilities
USB devices support (Support USB
Floppy, CDROM, HDD),USB Audio
support, System Recovery, VNC server
512MB only: Sun J2RE 1.4.1, Windows
Media player 9.0, Acrobat PDF reader
5.0, DirectX 9.0, Firewall (include file
sharing), MDAC (include Jet Database
Engine), USB video support, Wordpad,
Calc, Notepad, Mspaint, Network Printer
(TCP/IP port)
Linux Embedded
MS RDP 1.4.1, Citrix ICA 9.0, X11(XDMCP)
Firefox 1.07, VNC viewer, Samba print
Browser Plug-in: Sun Java 1.4.2,
Macromedia Flash player 7.0, Acrobat
PDF reader 5.09 (128MB only), Real
Player 10.0 (128MB only); NX client,
SSH, Tarantella, K-phone (128MB only),
TCP/IP with DNS, DHCP, TK-RM Agent,
Password-protected setup,
Compressed read-only file system,
Samba/NFS file system support,
LPR/LPD Ghostscript print support,
Thin Print Support, USB External storage
support and sharing, Desktop mode
Terminal Emulation (Optional for Xpe) CPU
VIA Eden V4 CPU 800MHz (fanless)
RAM
128MB for CE
128MB/256MB for Linux
(DDR SO-DIMM 200 pins support DDR400)
256MB for XPe (expandable to 512MB)
Flash Memory
512KB Bootloader
32MB Flash for CE.NET
64/128MB Flash for Linux
256MB Flash for XPe
(expandable to 4GB)
Display and Audio Resolution
1600x1200 16-bit high color, 60 Hz
1280x1024 32-bit true color, up to 85Hz
1024x768 32-bit true color, up to 85Hz
800x600 32-bit true color, up to 85Hz
640x480 32-bit true color, up to 85Hz
Video Memory
Shared System memory 8MB to 64MB
CN700 with Integrated AGP 8x
Graphics Core
South Bridge
VIA VT8237R+
Audio
Output: CODEC VT1612A ,1/8-inch full
16 bit stereo FM synthesis,
Input: 1/8-inch 8 bit mini microphone
Input/Output/Peripheral Super IO
Winbond W83697HF (LPC)One serial port, RS-232C compatible, DB9M connector, baud up to 115.2K bps One parallel port, DB25F connector, bidirectional centronics-compatible and locally printable Analog VGA video output, DB-15 connector four USB 2.0 ports(two at front, two at rear) for floppy disk drive, mouse, CDROM,hard-drive, etc.
Two PS/2 ports for mouse and keyboard
Networking
TCP/IP with DNS, WINS, PPP, DHCP and PPPoE, PXE
RTL 8100C+ 10/100 Mbps, one RJ-45 connector
Housing
Plastic case.
___________________________________________________________________________